A few weeks ago, I highlighted three picture books about marriage equality. A similar read for an upper elementary crowd is Love, Penelope, by Joanne Rocklin. This book is about Penny, a girl who is excited to learn her moms are expecting a new baby. In a series of letters to her new sibling, Penny describes her life, her love of the Golden State Warriors basketball team, and the difficulties of elementary school.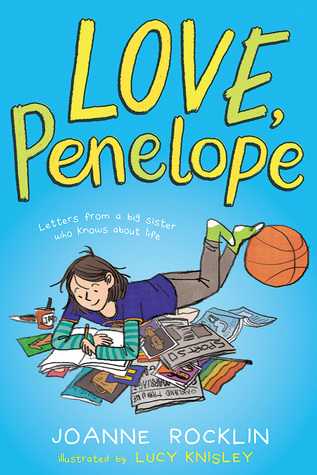 This novel endeavours to teach a number of important lessons about inclusion, equality, prejudice and many other issues. While it casts too wide a scope, and would benefit from more intense focus on fewer topics, the author does a good job of breaking down issues in age appropriate ways. For instance, Penny's family faces homophobia at a few points in the book, and the reader gets to see the impact of these actions. Significantly, a few secondary characters work to overcome their prejudices and make amends, showing how people can change for the better.
Another notable thread running through the plot is cultural appropriation. Penny's non-biological mother is Ohlone, which is an indigenous group of California. Penny lies and says she is of Ohlone descent for a school project, despite knowing this is dishonest. I would have liked to see more out of this storyline, since its resolution seems a little too sugary. I'll direct you to check out Debbie Reese's review of the book. She analyzes how it portrays Indigenous people and finds it lacking.
A few parts of the book didn't speak to me strongly, like the main character's obsession with the Golden State Warriors. Basketball isn't really my thing. However, the book isn't for me and I know a number of students who would happily devour any book that talks about the sport. This would likely be a good read for them.