Rez Dogs, by Joseph Bruchac, is the first book I have read that takes place during the COVID-19 pandemic. This book in verse follows Malian, a girl who is quarantining on her grandparents' reservation at the beginning of the pandemic. Malian makes friends with a local dog named Malsum and connects with her grandparents through stories.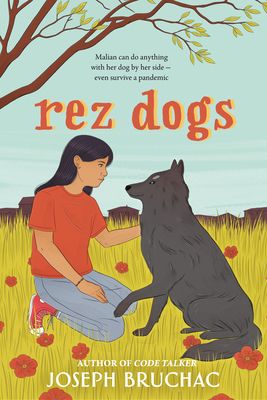 While the book is set in the United States, many topics in this book connect to Indigenous history in Canada. Malian's grandparents went to a residential school and were forbidden from speaking their language, while her mother was removed from her community by social services and lost touch with her culture. Other topics, such as colonization and the forced sterilization of Indigenous women are also discussed, although in a way that is accessible for middle grade readers. The book makes vague connections to the Black Lives Matter protests, although the systemic racial justice issues behind this movement are not discussed and a teacher's anecdote frames it as a matter of individual bias. Students would likely benefit from other readings on this topic, but the author does a good job of talking about how systemic racism affects Indigenous people, especially for a younger audience.
The strength of the book is its focus on stories. Malian's grandparents share stories to teach her about their culture and their past. The main message is that together their people have survived through hardships and challenged injustice, a message that gives them strength for the present and future.