Aristotle and Dante Discover the Secrets of the Universe
Aristotle and Dante Discover the Secrets of the Universe is the coming of age story of two teenage boys as they embark on a friendship that gradually becomes a deeper relationship. With beautiful prose, the title is particulalry apt, as the novel is replete with mysteries, great and small. Aristotle, or Ari, wonders about the mysteries of his older brothers' absence. He wonders about the distance between him and his father, a quiet man impacted by war. Most significantly, he wonders about the nature of his relationship with Dante.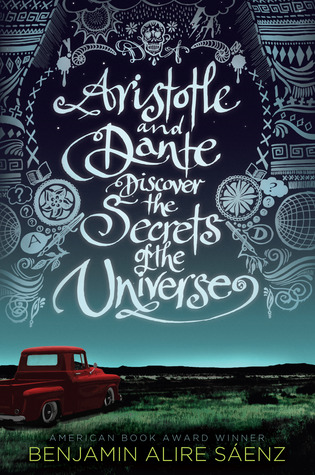 Aristotle and Dante is chiefly a book about identity. Aristotle and Dante must develop their own relationship and sexual identities. Set in the 1980's, this is no easy task. Most striking to the 21st century reader is the lack of vocabulary to describe what is going on. I don't recall the word gay ever turning up, nor are acts of harrassment and violence labelled homophobia, as we would call it today. But lacking words for their experiences, makes them no less real for the characters. Their feelings for each other are the driving force in the book, even if they remain somewhat ambiguous a lot of the time.
The characters grapple with other issues of identity. While both are of Mexican background, Dante feels disconnected from his heritage. Moreover, Ari's entire story demonstrates his growth, as he develops from a sullen and lonely teenager to a fierce and introspective young man. His journey would resound with many high school students who are themselves trying to sort out the mysteries of the universe.