Black Water, On the Trapline, and Kīwew
One amazing thing about the writer David A. Robertson is his ability to write compelling literature for any age group. Some of his most recent work demonstrates his versatility as he focuses on his relationship with his father and connecting with his Cree identity in Black Water, Kīwew and On the Trapline.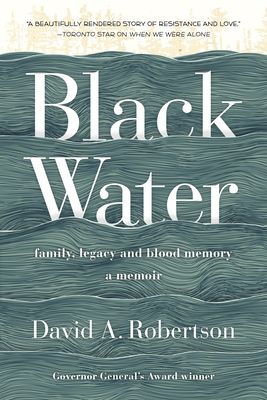 Black Water: Family, Legacy, and Blood Memory is a memoir that focuses on Robertson's relationship with his father and how he connects with his Cree identity. Robertson grew up in the small town of Melita, Manitoba, followed by River Heights in Winnipeg. Although his father was Cree, his parents did not raise him to identify with his Indigeneity, leading Robertson to feel disconnected from his Cree heritage. This led him to internalize stereotypes and other racist ideas about Indigenous people. He eventually reconnects with his father, overcomes these ideas, and starts the journey to discovering and connecting with his Cree identity. Black Water is a vital book for adults and adolescents to read, and I can see it prompting many important conversations about culture, family, stereotypes, and mental health.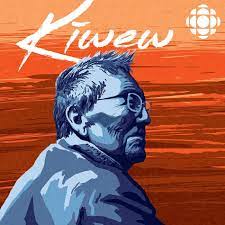 Kīwew is a podcast created by David A. Robertson that covers similar ground to Black Water. The word Kīwew means he goes home, which is a fitting title for a podcast that recounts Robertson's journey as he discovers and connects with his Cree identity. In the podcast, Robertson discusses his family's history and interviews people to learn more about relatives who attended residential school and how his family was forced off the trapline through racist and assimilative government policies. He also focuses on his own experiences, including how he was affected by Indigenous stereotypes and how he is in the process of learning what it means to be Cree. Last year, I played episodes of this podcast for my grade seven students during our study of memoir and biography. I particularly liked how interviews with Robertson's father and other family members are included, so we get to hear first hand accounts of their perspectives.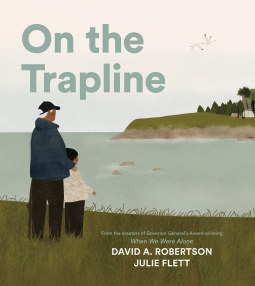 On the Trapline, a picture book illustrated by Julie Flett, tells the story of a grandchild and grandfather who visit the grandfather's trapline. After reading Black Water, it is clear that Robertson was motivated to write the story after he and his father visited his family's trapline. This book offers a story of Indigenous resurgence, borrowing from Brooke Madden's ideas of Indigenous counter-stories. In this story, the characters are reclaiming places that were taken away through racist government policies. This reclamation is evident when the grandchild discovers what it means to live in the north and on the trapline, as well as when Cree words are reclaimed on each page.
Many picture books about residential schools have found the way into school classrooms and these stories are essential. On the Trapline makes reference to residential schools and their effects, but the main focus is on this Indigenous family's homecoming. In his afterword for the book Robertson says "Reconciliation is more than just healing from trauma. It's connecting, or reconnecting, with people, culture, language, community." I'm grateful that Robertson has created these stories of reconnecting and resurgence in writing Black Water, Kīwew, and On the Trapline. Students need to hear these stories of resurgence in order to move forward with reconciliation.