Warning: Minor Spoilers Ahead
Felix Ever After, by Kacen Callender, tells the story of Felix, a seventeen year old student going to art school in New York. At the outset of the book, Felix identifies as a transgender boy, although he continues to explore his gender identity over the course of the story. His world is shaken when an unknown person posts pictures of Felix from before he transitioned, along with his deadname, in the front hallway of his school. This soon escalates to online harassment and leads Felix on a hunt to find the culprit. Further complicating the situation is Felix's search for love, as he unexpectedly becomes entangled in a love triangle with two guys from his class.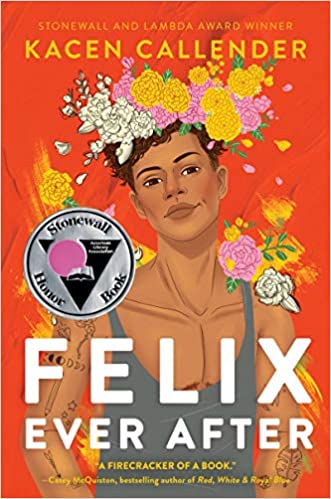 Although Felix has transitioned prior to the start of the story, he is still in the process of questioning his identity. He feels like he doesn't always fully identify as a boy and feels confused. Eventually through research and reaching out to a support group, Felix realizes he identifies as a demiboy. The reader is reminded that gender identity is a complicated and personal thing, and it is okay to be uncertain and question it. In some respects, Felix's journey and internal questioning reminds me of Rick, a middle grade book where the main character questions his sexual identity. Both books show the characters' internal journeys as they try to figure out how they identify, although Felix Ever After is geared for an older high school audience.
A major subplot of the book focuses on the transphobia Felix faces. Sometimes he hears off-hand remarks from classmates that heavily impact him. Other times he experiences targeted, yet anonymous, harassment, both in the real world and online. Felix grows and learns to stand up for himself, often with support of his friends. Common transphobic ideas are challenged, as the author affirms that transgender and genderfluid people deserve respect and the right to be themselves.