Hello, Universe is a Newbery Award winning book by Erin Entrada Kelly. It tells the story of four middle schoolers whose lives collide on the first day of summer vacation.
Ultimately it is a story about the beginnings of friendship. The author focuses on fate and how the friendships are meant to be. However, I found it a lot more intriguing to examine the quiet bravery that causes characters to leave their comfort zone and take risks to forge these new relationships. For instance, the character of Virgil is dreadfully shy and lonely. Over the course of the book, he undergoes character growth, learning to stand up for himself and reach out to others. This may not seem like much, but it is a world of difference to Virgil, who is deeply changed by his experiences in the book. I can see the lessons he learns being meaningful for many students.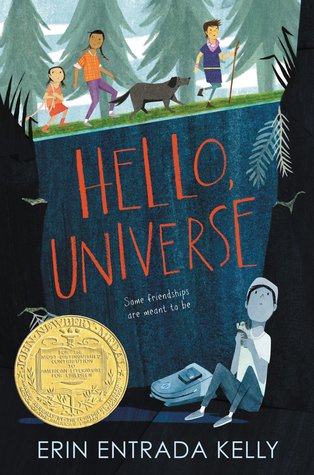 When reading the story, I appreciated the diverse cast of characters. Erin Entrada Kelly identifies as Filipina-American and infuses this cultural background into the book. Virgil is Filipino and has a close relationship with his grandmother, who fills his head with folklore and stories that play an important role. I teach many Filipino students, so I am eager to see what they think of a book that reflects some of their heritage. Also notable is the character of Valencia, who is deaf and makes use of a hearing aid. I enjoyed Valencia because she was a strong willed and self-reliant character, if a little lonely. In reading about her, I gained insights about what life is like for people who are deaf or hard of hearing. I'm sure such insights would be useful for students too.
Overall, Hello, Universe is an excellent middle grade novel about overcoming loneliness and learning to be brave, all while featuring a dynamic and diverse cast of characters. I highly recommend it.