Indigneous Writes by Chelsea Vowel is a guide to First Nations, Métis and Inuit issues in Canada. The book provides a dialogue about the relationship between Indigenous Peoples and settlers in Canada. Chelsea Vowel is a Métis legal scholar and teacher who offers important insights into how Indigenous identity is defined in Canada. She spends time busting myths that are erroneously applied to Indigenous people, as well as discussing examples of state violence, such as residential schools, the Sixties and Millennial Scoop and Inuit Relocation. As well, she teaches about treaties, giving background on their history and how treaties are regarded differently by the government and Indigenous groups.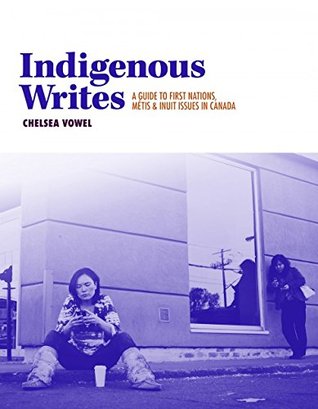 Indigenous Writes is an important book for every Canadian, but teachers in particular need to read it. As Vowel writes, "this country is woefully ignorant on a grand scale, and we will never succeed in rebuilding relationships until we address that ignorance. I can't stress this enough: without education, there can be no justice, and until there is justice, there will be no peace." Teachers can work to counter this ignorance and rebuild relationships, but to do so they must work to erase their own ignorance. Educators need to become aware of how deeply embedded colonial perspectives are in Canadian society, both historically and contemporarily. Indigenous Writes is a good tool for starting this journey.
As I read, I found many topics that were new to me, such as the Inuit relocation or the Qimmiijaqtauniq (which was the organized slaughter of sled dogs performed by the RCMP between 1950 and 1970). Moreover, the book offers insights into Indigenous perspectives that are often missing from dominant settler colonial narratives. The chapters about treaties were particularly eye-opening, in how they outlined the drastically different way treaties are perceived between Indigenous groups and the Canadian government. Reading these chapters highlighted the need to further my own education in these areas and others. Thankfully each chapter's endnotes provide recommendations for further reading.
Indigenous Writes is written as a series of essays on various topics. High school teachers could use the essays in class to support learning on particular topics. For all teachers,it is an excellent resource for their own professional development, helping to deepen and widen their understanding of colonialism in Canada. While lots of teachers feel comfortable teaching about specific parts of Indigenous history, many teachers still find it challenging to connect past examples of colonialism with contemporary colonial practices in Canada. Indigenous Writes helps to broaden our understanding of this topic in order to help teachers challenge myths and current colonial structures in Canada.