Two Novellas on Reconciliation
A number of children's books examine what happened at residential schools and their immediate impact. Rarer are books that focus more specifically on the journey towards reconciliation. For this reason, I was pleased to come across two novellas that do just that: When We Play Our Drums, They Sing! by Richard Van Camp, and Lucy & Lola by Monique Gray Smith. Collected into one book, the middle grade novellas focus on two contemperary Indigenous families who are dealing with the lasting impacts of residential school.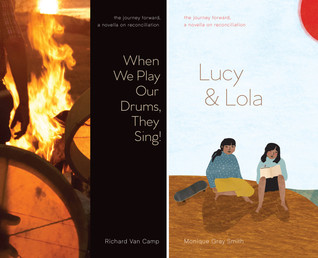 When We Play Our Drums, They Sing! tells the story of Dene Cho, a boy dealing with anger that his people are losing their culture, traditions, and language. Set in Northern Canada, Dene Cho is given four days to prepare a presentation on his culture for his teachers. He asks Elder Snowbird for help and through conversation, he begins to better understand his world and his past. The dialogue in this piece is a thing of beauty. Elder Snowbird offers wisdom and helps reframe our understanding of what it means to seek reconciliation. Dene Cho's anger feels authentic, as does the healing he experiences over the course of the story. His frustration with the school system also rings true, and makes me consider how we need to do a better job of teaching in a culturally responsive way. This is a piece that I would love to read aloud to my class as it offers so many avenues for rich discussion about reconciliation.
Lucy & Lola tells the story of two sisters who spend the summer with their grandmother. Over the summer, the girls deal with an instance of prejudice that emphasizes that progress still needs to be made towards reconciliation in Canada. This spurs reflection on the part of their mother and grandmother, both residential school survivors. They choose to share some of their experiences with Lucy and Lola. Importantly, both women experienced trauma in the past and the author outlines how it has impacted them and how far they have come since that time. The book teaches about residential schools, their lasting impact and the road forward, which is an important message for students.
Both novellas would be useful for teaching upper elementary students about residential schools and reconciliation. Lucy & Lola probably skews slightly younger, while When We Play Our Drums, They Sing! likely would catch the attention of middle years students as well. Both are good pieces for helping students develop a more sophisticated understanding of the importance of reconciliation.