This Place: 150 Years Retold
This Place: 150 Years Retold is an ambitious project that aims to retell Canadian history by centering Indigenous perspectives and experiences. With over a dozen Indigenous authors and artists, the graphic novel anthology delves into stories from across Canada that illustrate Indigenous heroes who have resisted, fought, protected, and survived.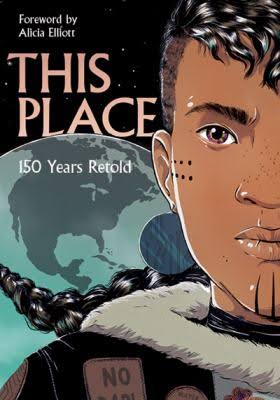 As I read the book, I was struck with how unfamiliar most of the stories were to me. I was a history major, but the stories and perspectives offered in these pieces were often new and unexpected. Here are a few highlights:
Annie Bannatyne was a truly badass Métis woman whose act of resistance may have inspired Louis Riel. Seriously, I live in Winnipeg and took a Métis history course in University. How have I not heard about her before?
The Canadian government banned the potlatch ceremony in 1885. West Coast Indigenous peoples kept doing it anyway, right under their noses. A story that would capture students' attention.
Another captivating story was about Francis "Peggy" Pegahmagabow, a war hero during World War I who returned home and had to fight for his rights in Canada.
This Place demonstrated that Indigenous spirituality, beliefs, and shamanism are varied, unique, and different from my own experiences. It struck me reading "Red Clouds" and "Rosie" how intent white settlers were in taking away Indigenous beliefs and practices, without making any real effort to understand them.
I'm familiar with the Sixties Scoop, but didn't realize Wabaseemoong Reserve passed a resolution and prevented the Children's Aid Society coming onto their land and taking their children.
Chief Frank T'Seleie's fight against the Mackenzie Valley Pipeline was a precursor to Indigenous activism we see today. The story "Like a Razor Slash" offers significant insights into what land claims and treaty rights mean in Canada.
Several stories told about the fight to protect Indigenous rights and were enlightening. I know little about the Salmon Wars or the Oka Resistance and need to learn more.
After reading This Place, I am painfully aware of my own ignorance. Canadian history is not just settler history. Indigenous heroes, perspectives, and experiences need to be throughout our history textbooks and classes. I am grateful to the authors of This Place for writing a book that educated me and helps jumpstart further learning. This Place is a welcome and necessary addition to middle school and high school classrooms.