The Witness Blanket: Truth, Art and Reconciliation
To prepare for the National Day for Truth and Reconciliation, this year I chose to explore The Witness Blanket: Truth, Art and Reconciliation, by Carey Newman and Kirstie Hudson. This non-fiction text talks about the creation of The Witness Blanket, an art installation that incorporates artifacts from residential schools across Canada. The art installation works to bear witness to the experiences of Indigenous children who were forced to attend residential school. It is an excellent book for helping upper elementary school students and middle school students understand the truth of what happened.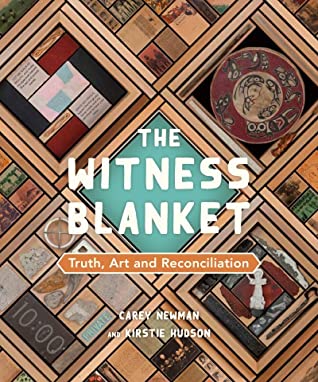 Each chapter focuses on a different type of artifact that is found on the blanket. For example, one chapter focuses on the poor nutrition provided to the children and chooses to contrast the small plastic dishes used by the children with the fancy plates used by the teachers in the discussion. One chapter highlights a single lost and weathered child's shoe that was found outside of a former residential school. Another chapter focuses on traditional moccasins that children would not have been allowed to wear at the schools. Each artifact tells a story and seeing the artifacts offers a strong reminder of what was lost through these schools. Moreover, each chapter links these stories to Survivors' accounts from across Canada, allowing the reader to witness powerful testimony. Carey Newman, the author of the book and the artist who created the art installation, also connects some artifacts to his own family's history with residential school. He reflects on the experiences of his father, who is a Survivor, and the intergenerational impacts of the schools.
Along with this book, I would highly recommend teachers check out The Witness Blanket website. The website allows visitors to interact with artifacts and learn about them through text and videos of Survivors. The website is accessible for various age levels. The first two paragraphs of each article are offered at a grade four to six reading level, with the rest of the article scaling up in complexity for older students. As well, the teaching guides offer ideas for teaching about residential schools, building empathy, and pursuing reconciliation.