Ivy Aberdeen's Letter to the World
As a middle school teacher, I have tried to fill my classroom library with books that are representative of LGBTQ students' experiences. I have collected a variety of books relating to trans youth, kids with gay and lesbian parents, and LGBTQ teens facing discrimination, but there are still significant gaps in my library. For instance, I would like to collect more books relating to coming out experiences, as this is a significant and challenging milestone for LGBTQ youth.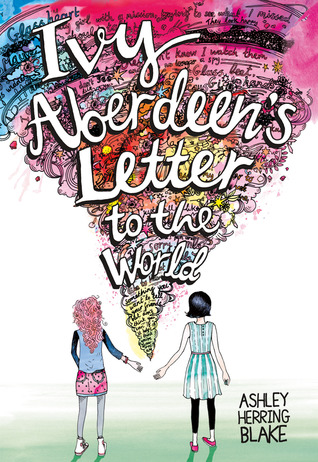 Ivy Aberdeen's Letter to the World, by Ashley Herring Blake, is a phenomenal example. This book tells the story of Ivy, a girl who is coming to terms with her feelings for her friend June. As she realizes the true extent of her crush, Ivy struggles with societal expectations. She is frustrated that heterosexuality is viewed as the default, and she feels different and apart from her peers. She is angry with her older sister Layla, who rejected her own best friend after learning about her sexual orientation. Afraid of being rejected too, Ivy has nobody to confide in and feels isolated during an already dislocating time in her life.
The beginning of the book starts with a gripping description of how a tornado sweeps through and destroys her family home. The dislocation this causes for Ivy and her family is a clever way of underlining the upheaval Ivy feels as she realizes she likes girls. However, with the eventual support of her family and friends, Ivy remains safe and grounded. I appreciate the positive message this book has for LGBTQ youth. Coming out is a difficult experience for many young people, and not everyone is as fortunate as Ivy. This book lifts them up and says their feelings are normal and important. I can see that being meaningful, particularly for those who can't give voice to their own feelings yet. This book will touch the hearts of many students and I'm happy to add it to my growing library.