A Girl Called Echo: Road Allowance Era
A Girl Called Echo: Road Allowance Era, written by Katherena Vermette and illustrated by Scott B. Henderson, is the fourth and final volume in the Girl Called Echo series. The series focuses on Echo, a Métis teenager who travels through time and meets her ancestors at significant points in Métis history. Volume four starts with the execution of Louis Riel and then follows a Métis family during the road allowance era.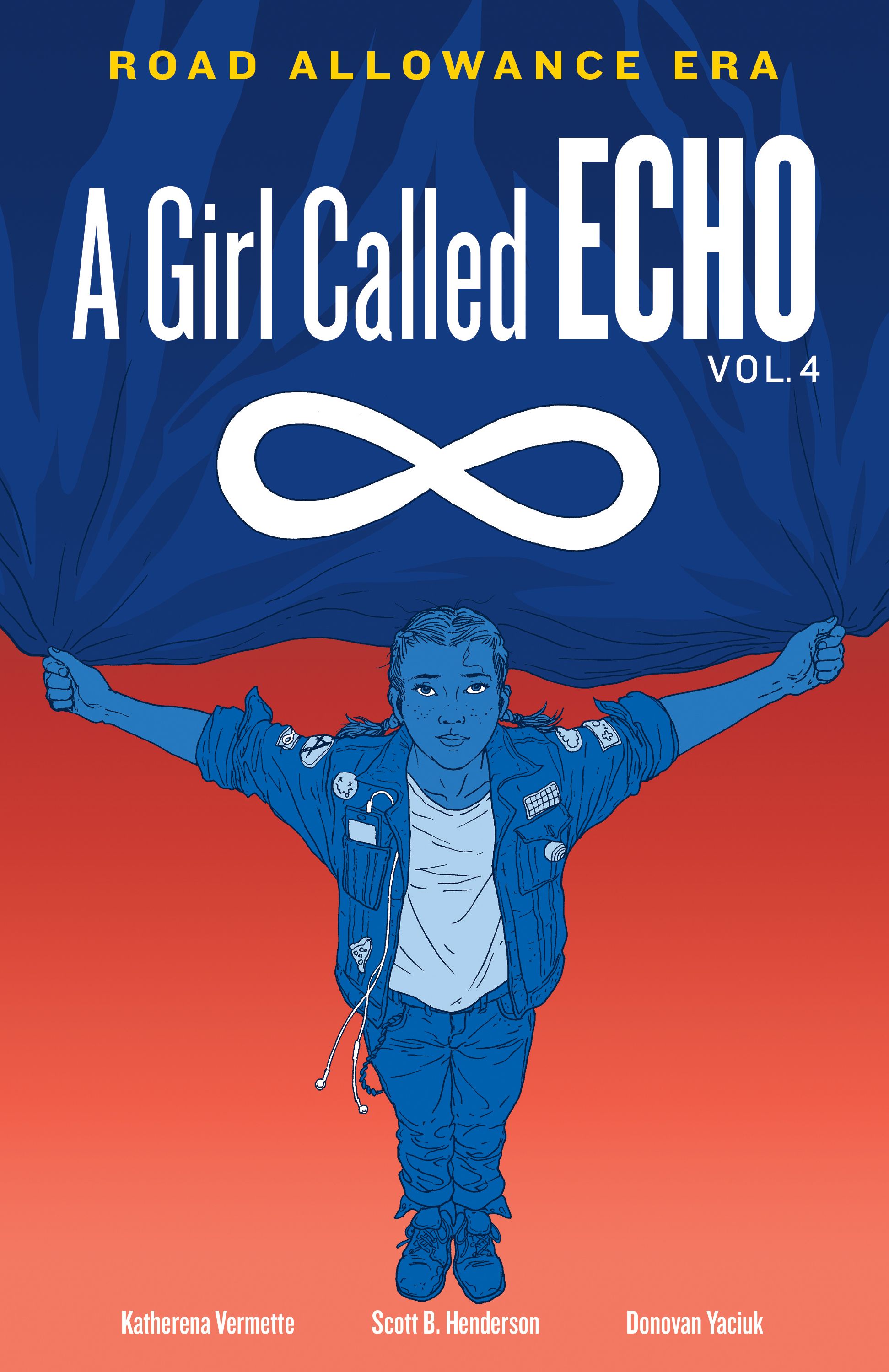 Due to the main character's ability to time travel, the reader is able to see many parts of Métis history that have often been overlooked in Canadian history classes. After being denied land in Red River, despite having certificates entitling them to land, Echo's family moves to Ste. Madeleine, Manitoba. In 1939, the settlement was burned to the ground, illustrating the violence committed by the state against the Métis. The book also discusses Rooster Town, another Métis settlement outside of Winnipeg. Displaced Métis families had lived there without title for years, but were eventually forced to leave in 1959 to make way for new development. For more information about these events, Stolen City: Racial Capitalism and the Making of Winnipeg, by Owen Toews, investigates in more detail how Winnipeg is rooted in acts of colonialism and displacement of Indigenous communities.
When reading this graphic novel, the pages dealing with Rooster Town were particularly striking. In 1940, Echo's family goes to the Winnipeg land office to apply to buy their land in Rooster Town. They are denied, being told that the land is being rezoned, before being insulted and told to leave. Compared to the rest of the graphic novel series, the visuals in these frames are familiar, with people wearing suits and cars driving down Winnipeg streets. This is history, but recent history. When I studied Canadian history in school, Métis history was framed in terms of Louis Riel and Gabriel Dumont, without focusing on the lives of Métis people who came after. I'm glad that this volume focuses on more recent Métis history, so we can better understand that discrimination committed by the government against Indigenous communities is not only rooted in the distant past, but a series of recent and contemporary acts.
The graphic novel ends with Echo talking with her family about the strength of their family and community. They discuss the success of recent land claims and the importance of fighting for Métis rights. The volume ends with Echo's graduation from middle school with her ancestors looking on, an appropriate ending that turns the reader's eyes to the future of the Métis community in Manitoba. I look forward to adding this book to my graphic novel collection that helps students learn about Indigenous history and rights in Canada.