Graphic Novels and Indigenous Rights
Every year I try to improve how I include Indigenous voices and perspectives in my classroom. A unit I developed this year was a mini-literature circle that focused on graphic novels by Indigenous authors and artists. I am grateful for the many powerful works by these storytellers, which explore both historical and contemporary settings. The visual medium adds to these stories, helping the reader connect with Indigenous perspectives in a different way from text-based books. This unit helped us explore Indigenous rights through visual stories, while also developing our visual literacy skills and examining how art supports storytelling.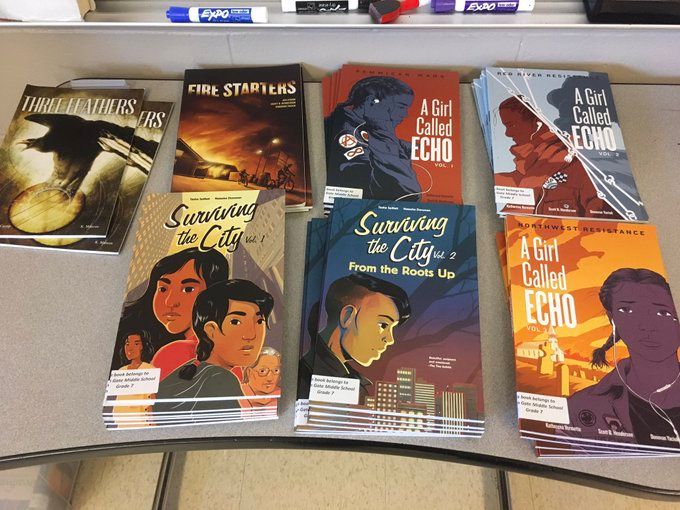 The books in the unit were chosen because they support discussion about Indigenous rights for grade seven students.
Surviving the City, Volume 1 and 2, written by Tasha Spillett and illustrated by Natasha Donovan - These books follow Miikwan and Dez, two Indigenous teens growing up in Winnipeg. Volume 1 focuses specifically on Missing and Murdered Indigenous Women and Girls. Volume 2: From the Roots Up focuses on Dez's identity as a two-spirited person and how she finds space in her Indigenous culture and community.
A Girl Called Echo, Volume 1, 2, and 3, written by Katherena Vermette and illustrated by Scott B. Henderson - A series that follows Echo, who travels back in time to different points in Métis history, including the Pemmican Wars, the Red River Resistance, and the Northwest Resistance. The newest book, which had not yet been released, focuses on the Road Allowance Era.
Fire Starters, written by Jen Storm and illustrated by Scott B. Henderson - This stand alone story focuses on two Indigenous teens who are wrongly accused of arson and the resulting fallout in the community.
Three Feathers, written by Richard Van Camp and illustrated by Krystal Mateus - This book focuses on three Indigenous teens who commit a crime and must face community justice and reconnect with their culture.
The 7 Generations Series, written David Alexander Robertson and illustrated by Scott B. Henderson - I didn't use this book, as the students at my school read it in grade eight. It offers a powerful look at how past traumas shape future generations and is a good choice for teen readers.
Sugar Falls: A Residential School Story, written by David Alexander Robertson and illustrated by Scott B. Henderson - A graphic novel that focuses on residential school experiences and their impact. I did not get the chance to use this book this year, but would definitely use it in the future.
This Place: 150 Years Retold - This text is a graphic novel compilation that includes stories from Canada's history, but from an Indigenous point of view. This book is a more challenging read, so I chose to use it as a mentor text.
To start the unit, we read "Peggy," by David Alexander Robertson, using the document camera. The story is one that students found accessible, focusing on Francis Pegahmagabow, Canada's most decorated Indigenous soldier and an activist. The story is one of contrasts, where we contrasted his life during the war and after the war. Our discussions ranged from post-traumatic stress, as well as how the Canadian government treated him and other Indigenous people in the post-war years. Images throughout the story emphasize this contrast.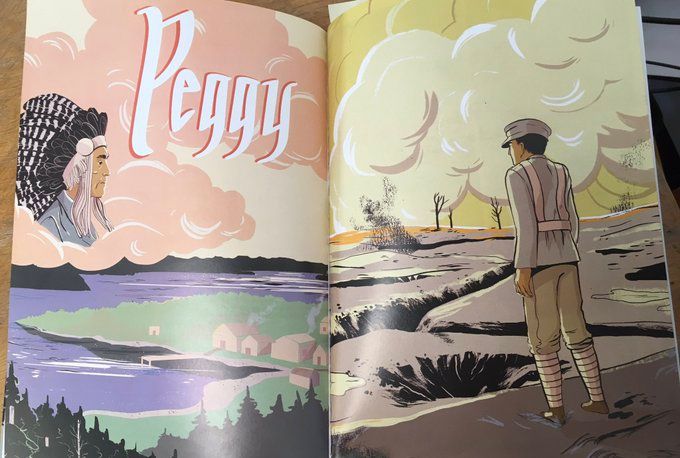 While graphic novels are sometimes viewed as easier reads, this is not always the case. Students need a variety of skills to make sense of the images and text and these skills sometimes need to be explicitly taught. "Peggy" is a good choice for teaching these skills, learning about narration, speech bubbles and the gutter. It also allowed us to start exploring other visual literacy skills, examining visual symbolism and focusing on how visuals can enhance our understanding of the text.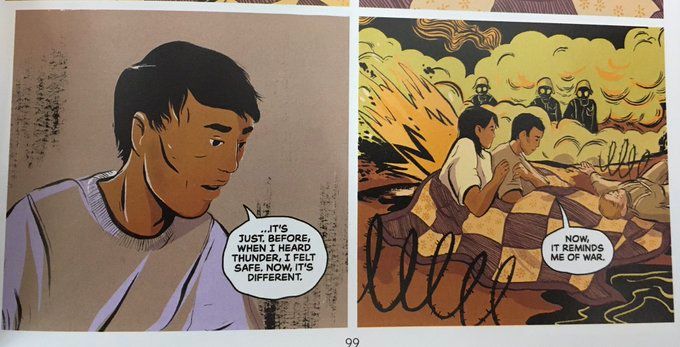 Because graphic novels can be read multiple times, they are useful texts for exploring theme. Many of the themes in these books connect to human rights in different ways, so I chose to have my students explore the United Nations Declaration on the Rights of Indigenous Peoples (UNDRIP). Canada is in the process of aligning their laws with UNDRIP, as Bill C-15 gets closer to being passed, so this is incredibly relevant. Understanding the different rights that are represented in UNDRIP allows students to interpret the graphic novels from a human rights lens. We can discuss how Indigenous rights have not been respected in Canada's history or are not currently respected. We can better identify themes relating to injustice or resistance. We can also connect this to current events in Canada by reading recent news articles.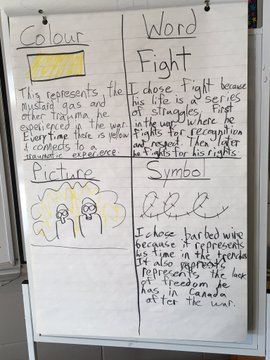 At the same time, the visual symbolism in the text helps us to better understand the perspectives of the Indigenous characters. I spent time modelling this with "Peggy," discussing the colours, words, pictures, and symbols that best represent the text and the character's experiences. We also spent time contrasting poweful words versus powerful images in the books, so students paid closer attention to the images. These tasks led to excellent discussions. For instance, recurring images in Surviving the City include light blue Indigenous women and sinister black figures. While students mostly agreed that the light blue figures represented murdered Indigenous women, they couldn't quite agree about the sinister black figures. Ideas ranged from demons and monsters, to more symbolic ideas relating to racism. These discussions helped us better understand visual symbolism, while also opening our eyes to the realities many people face in our city.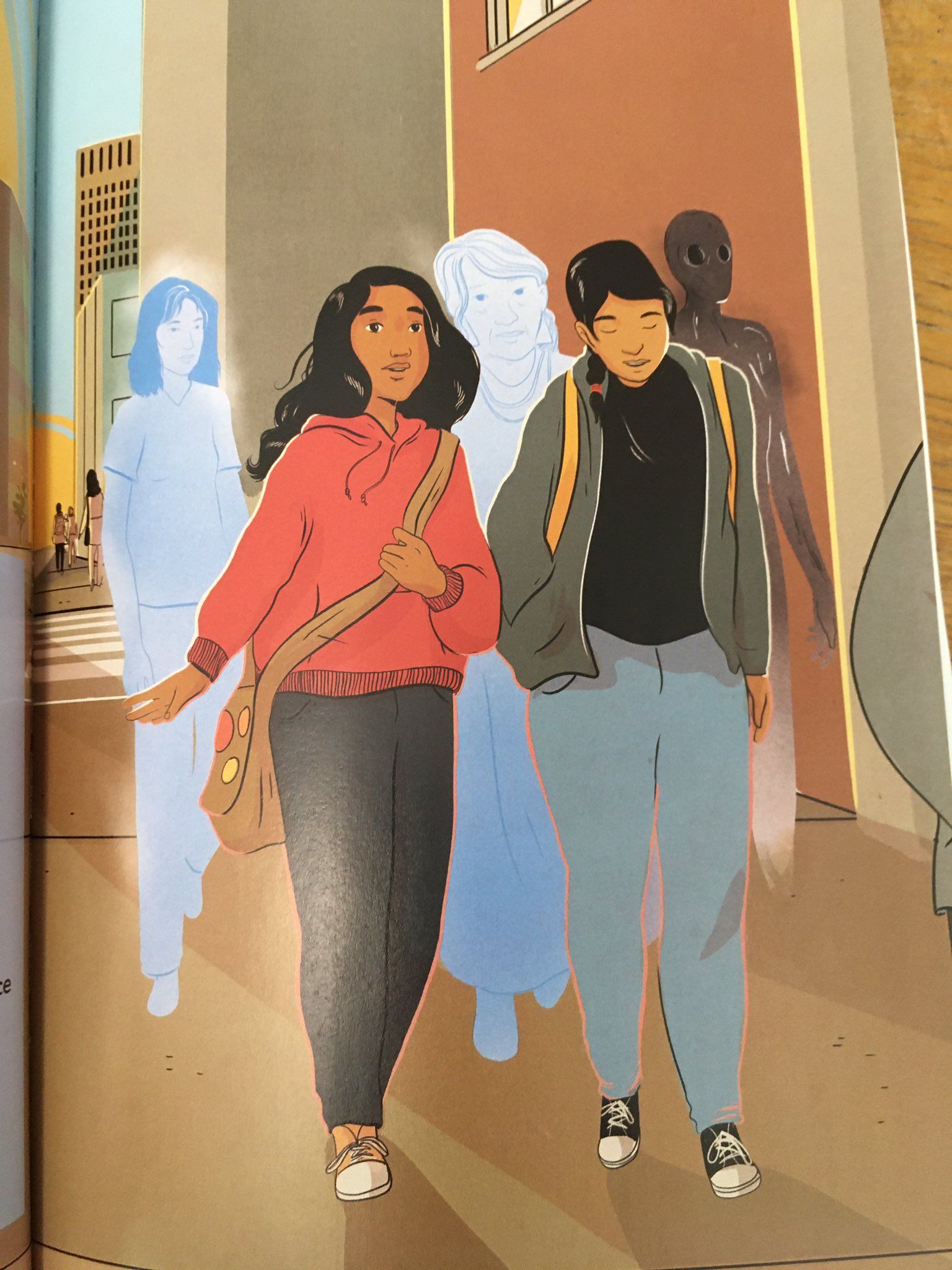 I taught this unit during the pandemic, which means there is a lot of room to grow. Ideally, I would like to see more sharing of ideas in small groups, along with greater focus on comparing and contrasting different stories (something that is a lot easier when I don't need to quarantine books between readers). However, even under constraints, I think this unit provided an entry point to learning about Indigenous rights and discrimination in Canada from the perspective of Indigenous storytellers. I would highly recommend other middle years teachers use these graphic novels to promote this powerful and essential learning.